Welcome to the fascinating world of Indian book publishers! Writing a book is easy as compared to searching for good book publishers so that your book reaches the right audience. After you put in your heart and soul into writing a book, for which you've spent days brainstorming, pouring out your emotions and deep thoughts and throughout the process, you don't have to depend on anyone. You write whatever comes to your mind. But the real game starts when you start looking for top book publishers who can make necessary changes and edits, design the book layout, covers and formatting, finding appropriate graphics and images for your book and giving credits.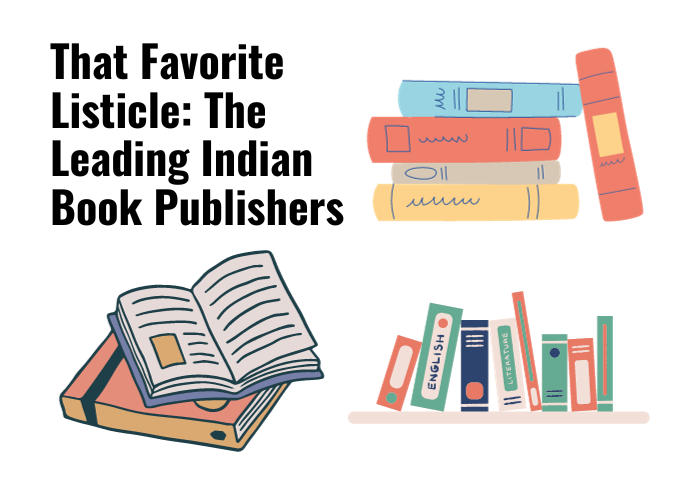 Indian book publishers are at the forefront of the global literary scene, fostering talent, championing diversity and putting India on a global map and how! They blend a rich historical legacy with contemporary publishing techniques, making them vital contributors to India's vibrant literary landscape. From well-established giants to nimble innovators embracing digital realms, Indian book publishers are pivotal players in shaping the nation's literary legacy.
In this blog post, let's embark on a journey to discover the top book publishers in India, exploring their unique contributions to the world of literature, who can help you give a magnificent shape to your book. Whether you are an aspiring author or an ardent reader, these publishers have something special to offer. Shall we dive in?
Penguin Random House India:
Established in 1985 under the name, Penguin India, they are a powerhouse in Indian book publishing, with an extensive catalog that spans across various genres and languages. Penguin Random House India is a dominant force among Indian book publishers. They have consistently delivered top-notch books from both Indian and international authors. They are behind the first Man Booker Prize winner of India for the novel, The God of Small Things by Arundhati Roy.
HarperCollins India:
A leading name among top book publishers, HarperCollins India is renowned for its commitment to nurturing fresh talent while publishing established authors. Their diverse range of books includes fiction, non-fiction and academic titles. Established in 1992, it earned a global name and published The White Tiger by Adiga, which received the Man Booker Prize.
Rupa Publications:
A legacy among Indian book publishers, it is one of the oldest book publishers in India, established in 1936. Rupa Publications boasts an impressive legacy of over eight decades in the Indian publishing industry. They have a substantial presence in English and regional languages, making them a versatile choice for readers.
Seagull Books:
It is an independent and internationally acclaimed publishing house based in Kolkata, India. Founded in 1982, Seagull Books has established itself as a prominent player in the world of publishing, particularly known for its commitment to publishing literature in translation, contemporary fiction and books that bridge cultural divides.
Aleph Book Company:
Curated excellence in Indian publishing, Aleph Book Company is recognized for its carefully curated list of titles, including literary fiction, non-fiction and memoirs. They bring unique and exceptional voices to the forefront.
Westland Publications:
A diverse range of top books, Westland Publications offers a broad spectrum of titles, spanning genres such as fiction, self-help and mythology. Their dedication to regional and translated works has garnered a dedicated readership.
Hachette India:
A global name in Indian book publishers' world, as part of the international Hachette Group, Hachette India has made a significant impact with its diverse portfolio, including bestselling authors and debut novelists.
Juggernaut Books:
Juggernaut Books stands out with its digital-first approach and user-friendly mobile app, making books more accessible to a wider audience. They publish a wide range of works, from fiction to short reads.
Notion Press:
Notion Press provides a platform for aspiring authors to self-publish their works. They offer comprehensive publishing services, including book design, distribution, and marketing support.
These top 10 book publishing houses, from Penguin Random House India to Notion Press, offer a treasure trove of literary gems for both authors and readers. Whether you seek to be published or are on the lookout for your next great read, these Indian book publishers have something for everyone. Dive into the world of Indian literature and explore the works brought to you by these esteemed publishers.