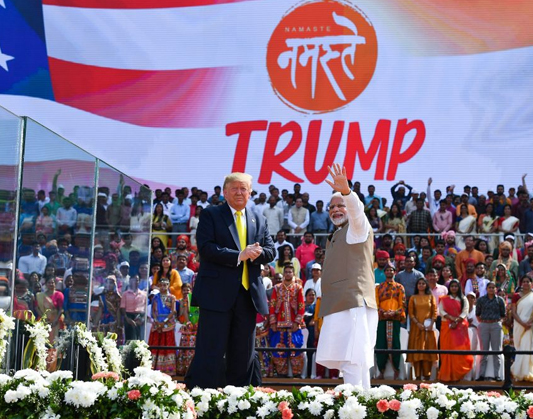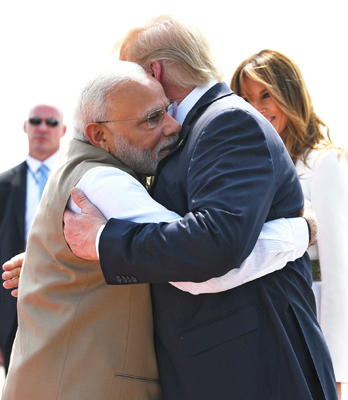 Trump's India Visit an Unrivalled Epoch
Comprehensive global partnership finalised
From Houston's Howdy Mody to the Ahmedabad's Motera Stadium's Namaste Trump, the unrivalled exhibition of Indo-US friendship, solidarity and cooperation and the public declaration of amity and goodwill have exceeded all limits of human imagination, and perhaps beaten all records of public gatherings anywhere in the world.
President Donald Trump's just concluded two-day, maiden visit to India on Feb 24-25, 2020, his first visit in his capacity as American President, has set an unprecedented benchmark in terms of staggering numbers, figures and statistics, never before seen anywhere in the world.
We too took the opportunity to create and release our 42nd publication, India Calling: Connecting Beyond Boundaries.
Against this mesmerising backdrop India and the USA on Tuesday finalised defence deals worth USD 3 billion, and signed three MoUs, including one in energy sector, as Prime Minister Narendra Modi asserted that the two countries have decided to take Indo-US ties to comprehensive global partnership level.
The chants, cries and shouts of "Modi, Modi", "Trump, Trump" that greeted the two leaders in Ahmedabad inside the world's largest stadium with a seating capacity of 120,000, and by the millions more of ecstatic and excited crowds in Agra and New Delhi will reverberate around the world, over and over again, for a long time to come. The Motera Stadium sure has dislodged the Melbourne Cricket Ground as the world's largest Cricket stadium. Security-related costs, with more than 12,000 police officers that were deployed, account for almost half the expense, official sources said, "Eighteen roads of about 20 kilometres (12 miles) in length from Ahmedabad Airport to Motera Stadium have been widened or re-laid," Municipal Commissioner Vijay Nehra said, adding that the improvements had been planned before Trump's visit was confirmed.
More importantly, the outcome from this visit, will certainly have far-reaching impact on the political careers of both these leaders with towering statures in different ways.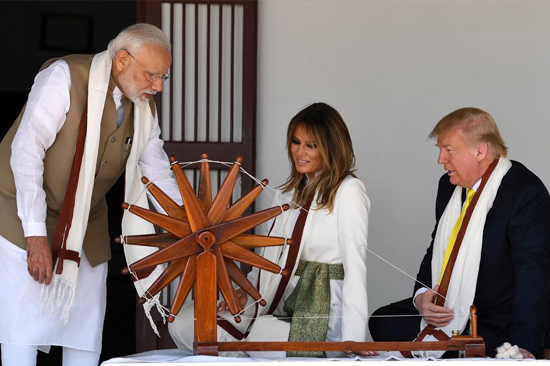 Without a doubt there seems to be a striking similarity between both these great men in the manner in which they conduct themselves as political leaders: One helming the affairs of a great super-power and the other steering India's growing influence and position as a global entity.
Brief as it was, President Trump and First Lady Melania Trump's visit to Agra with a 45-minute trip to the Taj Mahal is symbolic. It brings to the forefront the significance of love and peace – what the Taj stands for around the world – and it relevance for love and peace in the South Asia region as well as fostering stronger ties of love and lasting peace between the two countries.
This assumes greater significance in the light of what both leaders have said in their joint statement on rooting out Islamic terrorism in the region. "We have agreed to cooperate in dealing with radical Islamic terrorism and protect our citizens. We are resolved to eliminate terror operations on Pakistan soil."
Both have emerged from the shadows of near obscurity to capture the hearts and minds of people on the centre-stage of world politics, as leaders of two great republics. Both of them exhibit charisma of extraordinary proportions.
Another rare quality in their persona is their ability to evoke strong public reaction, either good or bad, in all the things they say or do. This means that you can either hate them or you can love them, but you can never ignore them, irrespective of what your political orientation is.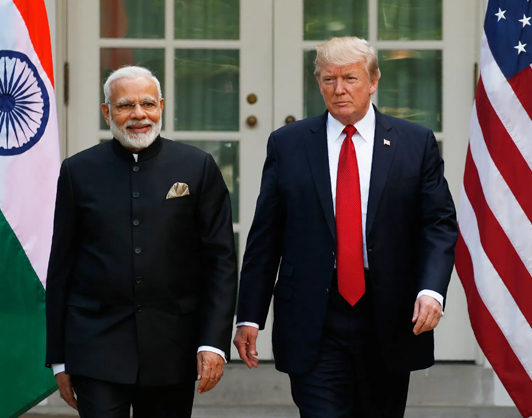 But this much is certain that the synergy set in motion through their various interactions of the past, as well as spin-offs from this visit will be many.
Meanwhile, the best chefs of India outdid themselves in serving food to President Trump and his entourage. Some of the finger food and starters that was served in Agra and at the official state banquet in New Delhi were encased in gold and silver and served in highly ornamental, intricately carved gold platters.
Inputs from Jugal Malani, the man behind the Howdy Modi mega-event in Houston, and a Jewel of Rajasthan awardee and the President of Unique Group of Companies, seem important at this juncture. He believes there are good chances for President Trump being re-elected for four more years, for this many republican-leaning Indian organisations are putting their best effort with heart and soul and mind.
He also notes that the results of Howdy Modi is already visible as President Trump says, "India hold a very special place in our hearts". This kind of gesture will result in strengthening the Indo-US relations on all different fronts such as defence, trade, terrorism, etc and boost the morale of Indian diaspora in the USA.
Another prominent member of the India diaspora, Padma Shri Dr Sudhir Manhar Parikh, also a Pravasi Bharatiya Samman recipient, says, "Today, the USA recognises the growing clout of India on the international stage. India has one of the youngest populations, with 800 million young people. When it comes to doing business, India remains of the top destinations in the world for FDI". Talk in terms of internet, mobile phones, automobiles, commercial vehicles, etc, India is either on top or raging ahead. American companies would sure like a gateway in the country.
No denying some lingual goof ups, however, there has been no American President welcomed at this grand and extraordinary manner. Also, this is being tagged as a tribute to Mother India and a sign of India's growing power as our Prime Minister spoke and the US President listened. With the two leadership coming together, what's the most remarkable is that the two most diverse segments – NRIs in the USA, tagged as the most privileged Indians, and the most underprivileged Indians from the villages and suburbs have seemingly agreed – have come together too.
Are we trudging towards India of dreams, willingly or unwillingly?