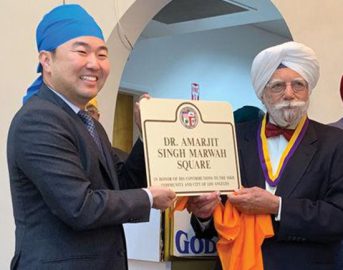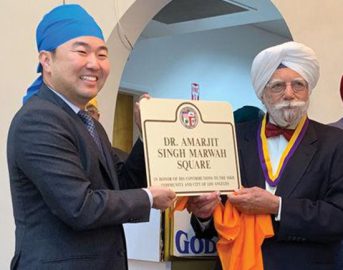 Indian-American Doctor Honoured by City of Los Angeles
A proud moment for India and Maneesh Media too as a Jewel of India, Dr Amarjit Singh Marwah and his contributions to Los Angeles history, medical department and especially the Sikh community have been recognised by Los Angeles Council member David Ryu. A street and its traffic square where the famous Hollywood Gurudwara is located in LA is now known as Dr Amarjit Singh Marwah Square.
Dr Marwah, who had migrated to the USA on a scholarship in 1953 to study pediatric dentistry in New York and has stayed there ever since. Studying hard, working hard, he soon grew up to start helping every needy in sight. Called the Papa of Indian American doctors, he is the father figure for many Indians. With the growth of Indian community in America in the 1960s, the demand for understanding and promoting Indian culture grew, leading to the formation of the Indian American Society which set up the Mahatma Gandhi Memorial Foundation under his guidance. He was the key person to motivate the sister-city relationship between Mumbai and LA.
Thanks to his donation of a building in 1969 that the first Sikh temple in the USA since 1947 could see light. He was also chosen as the city commissioner in 1974 owing to his equal involvement with the Indian and American communities. Under his chairmanship of 18 years, Cultural Heritage Commission and the Hollywood Art Commission declared as many as 300 sites as protected monuments. He also took Bank of Punjab to the USA to launch it on American model in 1994.
Now isn't that some way to celebrate a birth anniversary?
He surely deserves the honour bestowed upon him for not just this, he has done a lot more. Want to know more about all that he did? Well, to increase your anticipation, he is friends with all the leading Bollywood and Hollywood stars and also the leading national and international leaders!