For ambitious entrepreneurs and companies seeking to gain access to a wider investor base and enhance their market visibility, getting listed on a major stock exchange like NASDAQ can be a significant milestone. NASDAQ, one of the largest electronic stock exchanges in the world, provides a platform for trading the shares of numerous technology companies, biotech firms and other industries.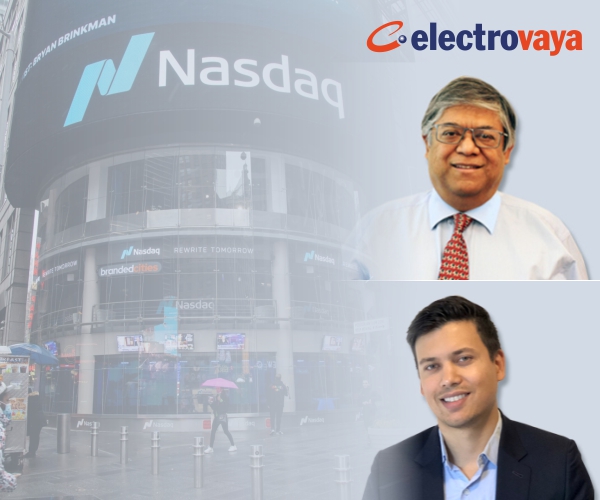 Electrovaya Inc., a leading lithium-ion battery technology and manufacturing company, began trading on NASDAQ on July 6, 2023. The company was founded by Dr. Sankar DasGupta in September 1996, headquartered in Mississauga, Canada. We chanced upon meeting him and had the privilege to feature him in our coffee-table book, Jewels of India: Leading Indo-Canadian Personalities in 2022. The CEO of Electrovaya, Raj DasGupta says, "We are very excited with the listing of our shares on Nasdaq, as this represents another significant milestone for Electrovaya and one of the cornerstones for our current strategic plan. The up-listing to NASDAQ reflects our growing sales momentum and overall financial performance." Raj DasGupta's talented siblings Geetanjali DasGupta, co-founder Electrovaya, and Bhaskar DasGupta, an equestrian, were featured in our recent publication, a coffee-table book, 50 Under 50: Young and Aspiring Indo-Canadians, for their extraordinary achievements in their respective fields.
Here's a step-by-step guide to help you navigate the process of getting listed on NASDAQ and how Dr Sankar DasGupta and Raj DasGupta made it possible.
NASDAQ offers a platform for companies to reach a broad range of investors and enjoy robust trading volumes. By understanding the specific financial standards companies can prepare themselves to meet the requirements for a successful listing on NASDAQ. The exchange's prestigious roster of technology giants and renowned non-tech companies demonstrates the potential for growth and success that comes with listing on NASDAQ.
With over 3,300 companies listed, NASDAQ boasts the highest trading volume among U.S. exchanges, averaging approximately 1.8 billion trades per day. Renowned technology companies like Apple, Microsoft, Meta (Facebook), Tesla, Amazon, Intel, Netflix and Alphabet (Google) have found a home on NASDAQ, alongside successful non-tech companies like Costco, PepsiCo and Starbucks. To qualify for listing, companies must meet specific financial standards set by NASDAQ. Let's delve into these standards:
Select the appropriate market tier
NASDAQ offers different market tiers based on various criteria, such as financial requirements, market capitalization and liquidity. The main market tiers include the Global Select Market, the Global Market and the Capital Market. Each tier has different listing requirements, with the Global Select Market having the most stringent standards. Analyze your company's financials and objectives to determine the most suitable market tier.
Meet the listing requirements
It is crucial to thoroughly review and understand these requirements:
Standard No. 1: Earnings
To meet this standard, a company must have aggregate pre-tax earnings of at least $11 million in the prior three years. Additionally, in the previous two years, the company should have earned a minimum of $2.2 million, with no net losses in any single year within the three-year period.
Standard No. 2: Capitalization With Cash Flow
This standard necessitates a minimum aggregate cash flow of at least $27.5 million over the past three fiscal years, with no negative cash flow during that period. Moreover, the company's average market capitalization over the previous 12 months must be at least $550 million and its revenues in the preceding fiscal year must reach a minimum of $110 million.
Standard No. 3: Capitalization With Revenue
Companies can be exempted from the cash flow requirement of the second standard if their average market capitalization over the past 12 months is at least $850 million and their revenues for the prior fiscal year are at least $90 million.
Standard No. 4: Assets With Equity
Under this standard, companies can bypass the cash flow and revenue requirements and reduce their market capitalization requirements to $160 million. However, they must possess total assets of at least $80 million and stockholders' equity of at least $55 million.
Engage advisors and experts
Seeking guidance from experienced advisors such as investment bankers, legal counsel and auditors who specialize in the listing process can be immensely helpful. These professionals can provide invaluable assistance in preparing your company for the listing, ensuring compliance with regulations and guiding you through the application and due diligence processes.
Prepare the listing application
Once you have assessed your company's readiness, selected the appropriate market tier and engaged the necessary experts, it's time to prepare the listing application. It is essential to provide accurate and transparent information to facilitate a smooth application process.
Compliance and due diligence
After submitting the listing application, your company will undergo a thorough due diligence process. This involves verifying the accuracy of the information provided in the application.
Securities and Exchange Commission (SEC) registration
If your company successfully passes the due diligence process, the next step is to register with the SEC. Working closely with legal counsel is essential during this stage to ensure compliance.
Listing day
Upon receiving approval from the SEC, your company will be listed on NASDAQ and your shares will start trading on the exchange. This milestone offers enhanced visibility, increased liquidity and expanded opportunities for growth. Utilize this opportunity to communicate with investors, analysts and the media to raise awareness about your company and its prospects.
Getting listed on NASDAQ is a complex and rigorous process, but it can provide tremendous benefits to your company in terms of exposure, liquidity and credibility. By carefully evaluating your readiness, meeting the listing requirements, engaging experts and navigating the application and compliance processes diligently, you can increase your chances of successfully listing on NASDAQ and unlocking new opportunities for growth and success in the financial markets.
Electrovaya Inc. (Nasdaq: ELVA; TSX: ELVA; OTCQB:EFLVF), by joining the ranks of renowned companies listed on NASDAQ, have positioned itselves among industry leaders and innovators. Dr Sankar DasGupta and Raj DasGupta's unwavering determination, groundbreaking products/services and strategic vision have undoubtedly caught the attention of investors and industry professionals alike.