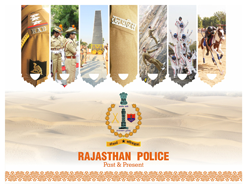 Rajasthan Police Past & Present
Past & Present
A salute to Rajasthan Police, a force that generally goes the most, though this one department never celebrates festivals… to help us celebrate in peace.
Delighted to have the privilege of compiling Rajasthan Police: Past & Present for the Rajasthan state police service, this pictorial book was detailed insight into the history of the police organisation and its evolution over the years. This compilation of Maneesh Media was released on 67th Rajasthan Day in 2015 by Hon. Chief Minister of Rajasthan, Mrs. Vasundhra Raje and the DGP of Rajasthan police, Mr. Omendra Bhardwaj.
This is our humble tribute to a force living up to its motto Sevarth Katibaddhta because of whom Rajasthan has earned the unique distinction of being one of the most peaceful states in the country.
This exclusive coffee-table book evinces the evolution of the Rajasthan Police over the years.
As many years may pass since the release of this book, Maneesh Media will always indebted to the Rajasthan police for trusting us with this book, which salutes all sectors of police like crime, traffic, RAC, SOG and so on.

Warning: Invalid argument supplied for foreach() in /home/maneeshmedia/public_html/wp-content/themes/maneeshmedia/single-other_publications.php on line 60