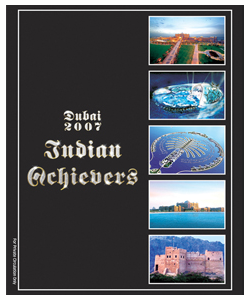 Dubai 2007 Indian Achievers
2007 was the year when Maneesh Media took a new path, as now on the media house also started doing special features on Indian diaspora settled and successful across the world, who can motivate several others. Reaping a sapling in 1999, we have today become a leading media house with a global presence and growing!
The first was Dubai 2007 – Indian Achievers, an exclusive book adorned with 85 one-page biodata of influential people of Indian origin in Dubai, including a comprehensive detail of 10 highly developed cities in the UAE.
Our first experiment, which went on to be highly successful, was officially unveiled by hon'ble M.P. Chittor, Rajasthan, Mr. Shrichandra Kriplani in Dubai on May 13, 2007 in a ceremony attended by several top names of Indian origin settled in Dubai.
The overwhelming response that we received for this book boosted-up our confidence, which showed us the path to dedicate exclusive pages illustrated with photographs of the dignitaries we'd feature next on.
Since our first step on a new path, we have come journey since then, yet this book holds special relevance for us, becoming our unique selling point eventually.
Our Associates