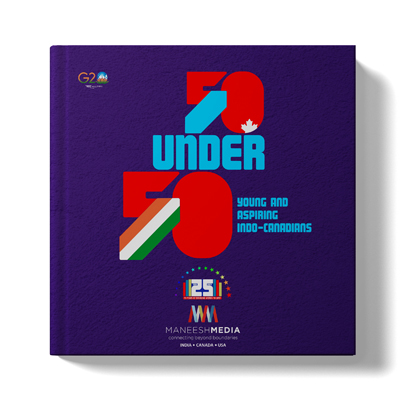 50 Under 50 – Young and Aspiring Indo-Canadians
Maneesh Media has recently launched 50 Under 50: Young and Aspiring Indo-Canadians and it has been a resounding success.
The launch of this exceptional book, which pays tribute to the remarkable achievements of dynamic young Indo-Canadians, was celebrated at a grand event held on 30 June 2023 at the Courtyard by Marriott in Brampton. It was held under the auspices of Chief Guests HE Sanjay Kumar Verma, the High Commissioner of India to Canada; Hon'ble Apoorva Srivastava, the Consulate General of India, and distinguished guests: the illustrious Dr. Vaikuntam Iyer Lakshmanan, recently bestowed with Order of Canada honour; Dr. Sankar DasGupta, the Co-Founder & CEO of Electrovaya and Adjunct Professor at the University of Toronto, and Dr. Lalita Malhotra, an eminent obstetrician and philanthropist from Prince Albert. Navratna Kothari and Colin Carrie, M.P., also marked their presence.
50 Under 50: Young and Aspiring Indo-Canadians is a unique compilation that shines a spotlight on 50 visionaries who are redefining success and making significant contributions to Canada's growth and multicultural fabric. The book features diverse individuals from various Indian states, showcasing the unity and richness of the Indian diaspora while inspiring readers with their remarkable stories. 
Fifty distinguished dignitaries united, celebrating their unique personas and shared visions, fostering cultural harmony and collaborative progress. The monumental celebrations commemorating this remarkable book embody the essence of inspiration and motivation that drives lives worldwide. Maneesh Media passionately believes in empowering our nation, particularly the youth, through captivating success stories born out of adversity. These narratives chronicle the remarkable odysseys of these exceptional individuals, bridging their ancestral homes in India to a new land, igniting a flame of motivation for future generations.