When he first landed in the US, all he had was a few Indian rupees, not even dollars – that he had loaned from a few friends and family. He also had some dreams to make it big. But the country didn't treat him too well – extreme cold, strange food, strange culture. He was young and energetic and that helped him take everything in stride. Yet, he often was nervous. His family, back in India, and some friends were his only support. He gradually firmed his steps and found a mentor – and never looked behind, creating a history that can't be rewritten, a trail of success story, a success that inspires!
And that's the story of Dr Piara Singh, Dr Vithal Devshibhai Dhaduk, Dr Ratinder Paul Singh Ahuja, Madhavan 'MR' Rangaswami, Husam Ahmad, and many other trailblazing Indians who are leaving a footprint behind them – the tigers! The jewels of India!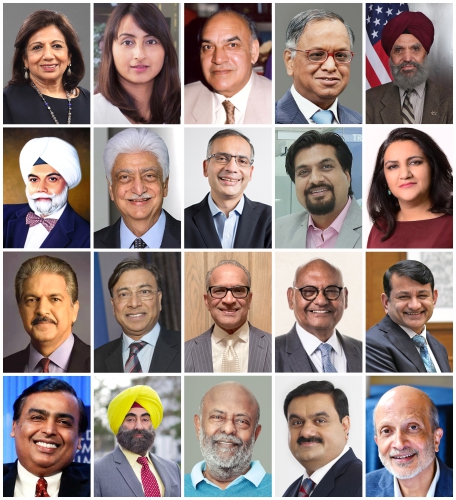 Promoting Success
The world's largest democracy, a country with the second-largest population, India has seen immeasurable success in the past few decades, especially the past three decades. India has created many immensely successful entrepreneurs, way before its independence, despite poverty, status and income inequality and lack of education and any business provisions by the government.
Many book publishers have worked wide and hard to throw light on such jewels of India; however, we at Maneesh Media have come up with an exclusive book, Jewels of India: Leading Indo-American Personalities, creating a whole bouquet of Indians earning success in the US!
Who hasn't heard of the Tatas, the Ambanis, the Adanis, the Mittals, the Murthys, the Sanghvis, the Premjis. And though the entire world respects Shiv Nadar, Anand Mahindra, Kiran Mazumdar-Shaw, Radhika Aggarwal, Anil Agarwal, Deep Kalra, Richa Kar… how many of us know Dr Amarjit Marwah – the dentist of Hollywood celebs? Asa Singh Johal – the global lumbar baron? Didar Singh Bains – the peack king and the largest producer of peaches across the world? Vimal Shah – one of the richest Indians in Kenya?
Jewels of India: Leading Indo-American Personalities (Vol II) is Maneesh Media's second coffee-table book on Indians making the whole nation proud in the US and around the world. These Indians have sustained the worst, worked as delivery people to newspaper-distributors to staff at fuel stations in the US and grown up to own some of the leading organizations in their industry. Many have faced racism and yet they are all up to support the development of societies as huge as the US and India!
Dr Jasvant Modi spreads the message of veganism amid the chaos of the COVID-19 pandemic; Manu Shah educates the needy and ensured every small school in his vicinity had digital teaching systems in place during the pandemic; Smita Shah leads a children's hospital and supports children connect more and better with science and technology through various organizations; Jesal Patel proudly leads a whole village, promotes cultural diversity, supports business especially real-estate.
The Stats Behind
Of the 1,266,264 legal immigrants to the United States, 58,072 were Indians and 421,006 Indians migrated to the US between 2000 and 2006. A 2021 report claims an average Indo-American family earns USD 120,000 (Rs 87 lac)/annum – which is clearly higher than many other Asian immigrants in the US. A clear reason why all Indians in America are proud jewels of India.
As per the US Census statistics, Indians have been outpacing all other ethnic communities – some experts have in fact termed it a brain drain. "As of 2019, there were about 938,980 active physicians in the US, Indian-origin physicians account for at least 29.5% of the total physician population," says a report by the American Association of Physicians of Indian Origin (AAPI). In fact, the maximum of international medical graduates in the US are Indians and India has been an important medical support throughout the world since the early 1960s.
Indians have marked their presence in NASA, as some leading business people, national political leadership, cryptocurrencies, sports, media and entertainment, and whatnot! Authors like Jhumpa Lahiri, economist Amartya Sen, etc, and writings based on India and Indian culture have also influenced US-based book publishers as many of them India-based stories and Indian authors. Many coffee-table books have been created on the vast and majestic culture and traditions of India, all of which are much sought after throughout the world.
And while Indian Americans have always maintained their ethnic identity, they have easily assimilated with the natives and other ethnicities. During some dark phases, Indians did face a lot of racial discrimination and violence, but the Americans have gradually come to welcome Indians with open arms.
The Indian economy has generated promising entrepreneurs – young and old. While most of us Indians are allured more by IT and technological advancements, Indians are seen all over different industries in the US or elsewhere in the world. Many Indian startups, ideas, companies have forayed in global markets and made themselves global names. Every part of the US has many enterprising Indians playing a huge role in strengthening Indo-US bilateral relations, their work profiles, and the economies of both countries.