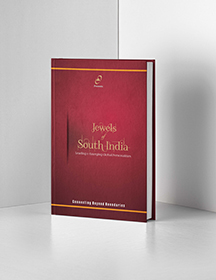 Jewels of South India
Publishing this book was a gesture to bring south India closer to north India. The southern part of India is an integral part of our nation, which gives us Bollywood, high-quality education, the best beaches, and has the state of highest education data.
This book was our 31st publication, released on January 6, 2017 by HH Jagadguru Sri Sri Sri Dr Nirmalanandanatha Mahaswamiji in the august presence of those covered. It features eminent and successful people of current generation who have made a mark in and out of their native lands, helping their karmbhumi grow manifolds. Adorning the book are their reminiscences, anecdotes of struggle as they move forward along with sticking to their principles and culture, navigating despite head-winds, during their strenuous journey.
Our Associates