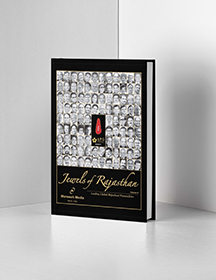 Jewels of Rajasthan Vol ll
While still working on its first volume, we realize there were many more to be talked about. And a second volume was thus decided upon!
Our 28th publication salutes 102 of the Rajasthani diaspora across 15 countries, who have been efficient, prominent and courageous in every field of their lives. The book was released on the eve of the Resurgent Rajasthan Partnership Summit 2015 by the Home Minister of Rajasthan, Mr Gulab Chand Katariya, amid a gathering of all the featured personalities and their families and friends.
This coffee-table book narrates interesting sagas of struggle and achievements of the determined Rajasthanis who took on "the road less travelled" to realise their dreams. These leading personalities are recognised for their achievements, sacrifices and contributions to the society, not only in the state of their birth but also in their adopted country and the world.
Encouraged and motivated by the advice of our Prime Minister Narendra Modi, this book features a section of advices by these people to channelise the talent of the youth along with their views on ways to improvising the governance and infrastructure as a priceless assistance to promote the Brand India and ensure a better development in Rajasthan and the country as a whole.
Our Associates