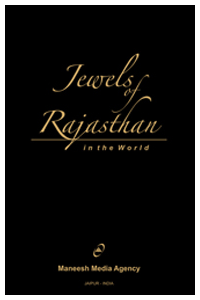 Jewels of Rajasthan: In the World Volume-1
A brainchild of those who worked on our earlier works on Rajasthan, who came across several of those who have in one or the other way helped the state grow.
An exclusive ode to the 64 people of Rajasthani origin, who have walked an extra mile to accomplish their dreams, this coffee-table book was unveiled during 10th Pravasi Bharatiya Divas 2012 in Jaipur.
It features decision-makers and influential people in echelons of power, who have left a mark in the society in their own terms. The stories here are not just success stories, but life stories of around 64 personalities from six different countries beautifully illustrated. The release and honouring ceremony of this book was held during 10th Pravasi Bharatiya Divas 2012 in Jaipur on January 8, 2012 by Mr. C.K. Patel who is referred to as a beacon, a socio-political powerhouse and a hotel magnate in the USA.
The aim that Maneesh Media now strives for is forming a bridge between those who look for inspiration and those who can inspire.
With this book, we were the donee of immense appreciation and accolades.
Our Associates