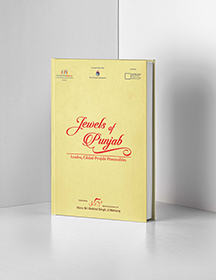 Jewels of Punjab Vol l
An entry in to the world of some of the most successful men, the men who have settled away from their heartland, yet are rooted in India; the men who have struggled to find a base, yet stayed jovial; the men from Punjab, the land of wit, fun, hard-work, sacrifice. Know what goes behind the making of grand success to be inspired.
This was our 34th publication, released on the eve of India's 71st Independence Day, August 14, 2017, in New Delhi, unveiled by our former Prime Minister, Dr Manmohan Singh. This book is more of a commemoration than just a coffee-table book. The release event was graced by some of the top personalities who have inspired us as we met them for this coffee-table book. Putting them all in one book, we hope it inspires all our readers as well. In fact, all these high-achievers come from around 19 nations under one roof, with one aim of inspiring those who look up to them.
With this tome, we celebrate in our unique way the 350th birth anniversary of the 10th Sikh guru, Guru Gobind Singh ji, beautifully blended with India moving forward in a positive direction under the leadership of our PM Narendra Modi, supported by his cabinet with demonetisation, Setu Bharatam Project, Start-up India, Stand-up India, among several others.
People of Punjab have been ahead in almost every field, be it security of the nation or earning India a name beyond the boundaries, science or devotion, politics or education, agriculture or entrepreneurship, etc. Since generations, the blithesome and valiant Punjabis have been ahead in their respective fields of work, having reached every corner of the world.
Since 2017 holds a special notion in the hearts of Punjabis, we celebrate the community across the generations and boundaries; the community that was chosen the most by the British government for putting on front at the times of World Wars; the community that has been the think-tank teams at national level in different nations. This compilation showcases achievements of Punjabi diaspora in the world.
In this book, we try to inspire and motivate our readers with the humble beginnings, challenges, principles of life and details of the involvement in various social and community activities of those staying in India or scattered across the world and making India proud. Jewels of Punjab is one of our small efforts to motivate the readers to stand resolute and unswerving, come what may.
Our Associates