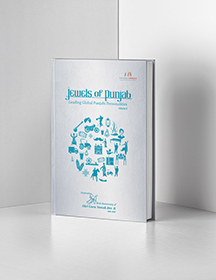 Jewels of Punjab Vol ll
Maneesh Media in association with World Punjabi Organisation recently organised a mega event to launch the Jewels of Punjab: Leading Global Punjabi Personalities – Volume II, coinciding with the 550th birth anniversary of the first Sikh guru, Shri Guru Nanak Dev ji.
Held at the Ashok Hotel, New Delhi, on 20 December 2019, the glittering event brought together global Punjabi achievers from over 20 countries under one roof. They included businessmen, international leaders, agriculturists, national defence servers, investors and many more.
The second in the Jewels of Punjab series, the rich and brilliantly illustrated coffee-table book, featuring the life stories 75 intrepid Punjab, was released by the former Prime Minister, Dr Manmohan Singh, the Chief Guest at the function in the presence of Padma Shri Vikramjit Sahney, President of the World Punjabi Organisation (WPO).
The book promotes the culture, values and heritage of Punjab as the base of the success these people have achieved as NRIs. In all, the Jewels and their families totalled around 500 people at the event. Twenty-nine among them were felicitated with special mementos by the Chief Guest.
Punjabis have the knowledge, dynamism and energy to make their culture a building block of unity and harmony among all the cultures in the world. Punjab today has emerged as a state of secular utopia. This coffee-table book was not just a celebration but an invitation to all Punjabis to participate in an event that promoted Indianism through Punjabiyat. The release event was followed by a congress of some of the leading global Punjabi intellectuals discussing Punjab's education, language, literature, agriculture, agri-business, health and growth, emphasising on peace.