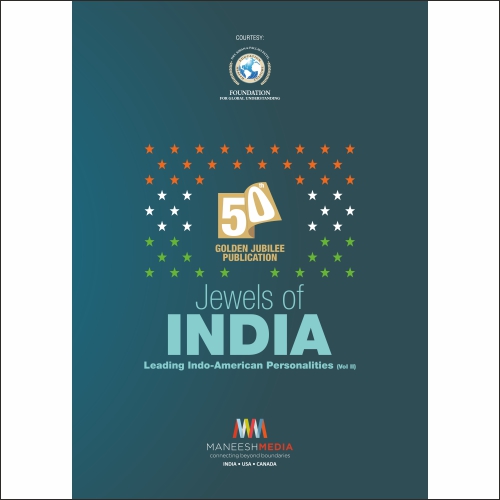 Jewels of India – Indo American
The 50th publication of Maneesh Media celebrated Azadi Ka Amrit Mahotsav to mark 75 years of India's independence. Jewels of India: Leading Indo-American Personalities (Vol. II) is a collection of biographies of 75 Indo-Americans from different fields like real-estate, health and medical, education and publishing, IT, gems and jewelry, law and finance, sustainability and energy and politics.
The book was launched during a mega event on 28 January 2023 at Mandarin Oriental, New York, in the presence of the 14th President of India, Ram Nath Kovind, who was live from Kochi. Among the attendees of the event were some eminent personalities including Consulate General of India in New York, Randhir Jaiswal; cardiologist and philanthropist, Dr Kiran C. Patel; philanthropist and entrepreneur, Darshan Singh Dhaliwal; Chief Executive of General Atomics, Dr. Vivek Lall; social activist, Meera Gandhi; independent CFO of Washington D.C., Dr. Natwar Gandhi; Mayor of Lincolnwood, Jesal Patel and many more. The event aimed to bring the featured personalities under one roof to work towards creating a bigger impact both in India and the USA. The book had support from the current Ambassador of India to the US, Taranjit Singh Sandhu.
The 75 featured people celebrating Indo-US strategic relationship come from 13 Indian states and are now settled in 13 states in the USA. These people have lived their American dreams and struggled through cultural differences and language barriers to dominate the chosen fields. These are some pioneers for whom their success wasn't their only aim but also the growth and development of India and the society they lived in; they have endeavoured to uplift weaker sections of the society, women empowerment, education, medical and health, AI and IT. Many of them have played pivotal roles in developing Indo-US bilateral relationships and strengthening their strategic alliance. And were they born with a silver spoon? No, they made each second count and earned everything they have. Read this coffee-table book and make history by walking the righteous path in life. Stay inspired!