Canada has the world's eighth largest Indian diaspora – and the majority are foreign-born. In 1904, the first documented Indian immigrants arrived in Canada and carved out the space for themselves from scratch. Today, a vast majority of them are leading businessmen, scientists, artists, writers, philanthropists and academics, adopting the Canadian lifestyle, keeping Indian traditions in mind.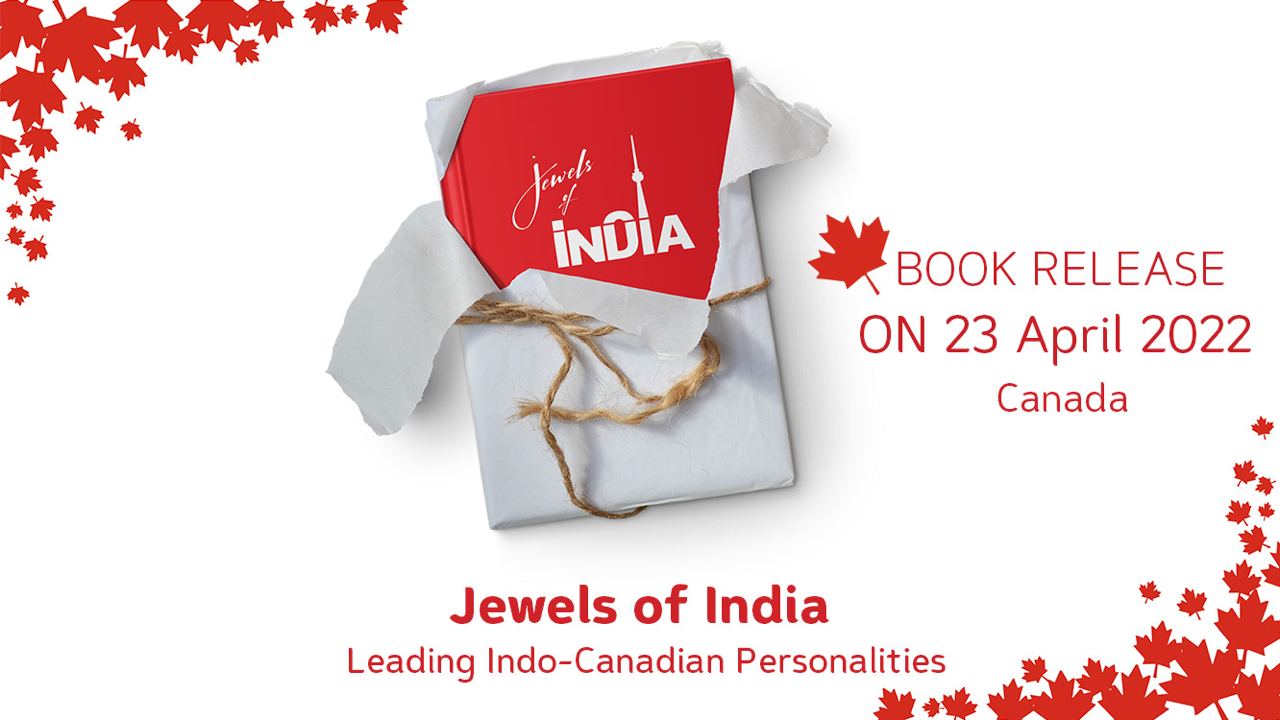 Jewels of India: Leading Indo-Canadian Personalities, an exclusive book, encapsulates the joyous, courageous, memorable and successful 75 Indo-Canadian stories, who are super achievers in their respective fields. This compendium portrays the historical conditions, structural constraints and the struggles that shaped their lives and their families' lives in Canada. It is a documentation of how these Indian jewels in Canada socialised, protected and supported themselves and the society as they adapted to external constraints.
A compilation of biographies of some leading Indo-Canadians, this book is a celebration of #AzadikaAmritMahotsav that the government started as a commemoration of 75 glorious years of India's independence. The entire Indian diaspora around the globe are not shy to showcase the ardour of their enthusiasm. Supporting organisations of this book release are OFIC, Indo-Canada Community Center Inc. (ICCC), Sanatan Mandir Cultural Centre, Canada India Network Society (CINS), Ottawa Muslim Women's Organisation, ICICI Bank and the Crown Group of Hotels.
The book here doesn't just boast of the leading Indo-Canadians under one roof, but also as many as 18 Indian states coming together to celebrate the nation's vibrance.
This book brings forth the accomplishments of people like Dr. Budhendranauth Doobay (an eminent cardiologist and a Hindu priest in Canada, he is a body and mind healer in the truest sense of the word), Deepa Mehta (a transnational artist and a screenwriter, director and producer, her work has been called courageous, provocative and breathtaking), Dr. Gurdev Singh Gill (a communist activist, the first Indo-Canadian to graduate in medicine from UBC and the first to practice medicine in the country. In 1990, he was the first Indo-Canadian to receive the Order of B.C.), Dr. Lalita Malhotra (a health professional, a mentor and community leader, she has delivered more than 10,000 babies in Canada. For her deep connection with the indigenous community, she is now called the Angel of the North) among many others. These are some people who are earning laurels for both India and Canada but hardly do resident Indians know about them. It is time that India too started celebrating them.
Allow 'Jewels of India' to open up worlds and change perspectives.