When he runs he presents a stirring sight: A tall burly figure with his long, flowing, snowy beard blowing in the wind, striding along at a comfortable, breezy pace on a highway. Bystanders on the sidewalks on both sides cheer him on as they chorus, "There goes the marathon man".
That's British national Fauja Singh, originally from Jalandhar, Punjab. Running is his life and he does it only for the pure pleasure of filling his lungs with pure oxygen and the sheer adrenaline rush that follows. He started running at 89, making his debut in the 26-mile London Marathon in 2000. At 108, he's a runaway success, a sensational marathoner that the world loves and adores.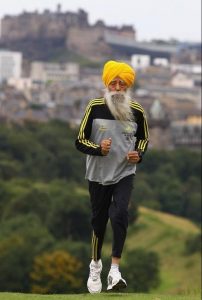 He has a string of records, medal and accolades, has featured in an Adidas Ad alongside David Beckham and Muhammad Ali. Some of the marathons he has ran and conquered include the London Flora Marathons, Toronto Waterfront Marathons, New York City Marathon 2003, Glasgow City Half Marathon 2004 and Capital Radio Help a London Child 10,000 m in 2004. In July 2012, he carried the Olympic torch.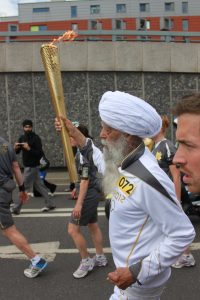 And to think that until the age of five, this idol of millions, this global icon, couldn't even walk.
He holds UK records for the 200 m, 400 m, 800 m and 3,000 m for his age group, records all set within a single 94-min period. At the age of 100, he attempted and accomplished eight world age-group records in one day, at the special Ontario Masters Association Fauja Singh Invitational Meet, held at Birchmount Stadium in Toronto, Canada. On his 100th birthday, Queen Elizabeth II couldn't herself back from sending him greetings