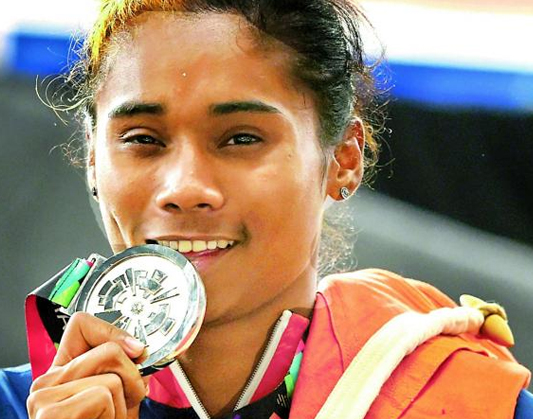 The New Hima laya!
20 days, 5 gold medals, 5 races, appointment as the Youth Ambassador of UNICEF India, age 19! Does that even sound like an Indian athlete? But she is! Hima Das, the latest Indian sensation, the one who has surprised the entire world of athlete, the pride of every Indian throughout the world… she had practiced so well, she couldn't help winning.
She probably went through Shahrukh Khan's 70-minute dialogue from the Bollywood blockbuster Chak De! each time before she headed to her block.
While India is still awaking up to Tennis, Soccer, Hockey (though its our national sport), Kabaddi, promoting athletics was a far-off dream till last month. Das has changed it all!
Born in Kandhulmari, a village which has suddenly gained significance, in Assam to farmer parents, Jonali and Ronjit Das, she is the youngest of her family. Going by the stats of farmers in India, luxury was not in her dictionary, though now she is star! A football lover, child Hima often played with boys of her school and village. She was the chosen striker at local clubs and dreamt of playing for India. Though her school teacher, Shamshul Sheikh advised to opt for sprinting. Lack of training equipment or field, didn't stop her as she continued practicing for her dreams. The first that she was noticed was by Nipon Das in an inter-district meet in 2016. She won races wearing her cheap spikes in competition to many well-off and funded athletes. And the rest is history.
In 2016, she reached 100m final at junior nationals followed by qualifying but standing seventh position in 200m at Asian Youth Championship, Bangkok. Her timing at Bangkok took her to qualify for World Youth Championships, Nairobi, where she stood fifth. Gold Coast Commonwealth Games were slow, but come July 2018 and she dramatically became the first ever Indian to win at World U-20 Championships in Finland, winning three competitors ahead of her. 2018 Asian Games were all about records and winning again.
Brands, accolades followed her, but she was awed when 2018 ended with the President, Shri Ram Nath Kovind, appreciating her excellence with Arjuna Award!
Having created history recently, she was congratulated by the Prime Minister, Shri Narendra Modi and now has several brands pursuing her, though she still loves cooking her Assamese-style dal the most.
She now is the brand ambassador for sports for Assam, and also India's first youth ambassador appointed by UNICEF.
"The only thing I fear is time…" says she, she would have her medals running after her once she wins over time. However, she couldn't forget the pressure she was under, some low comments, lack of right things to practice, among many others. With Karnam Malleshwari, Mary Kom, Saikhom Chanu, Dutee Chand emerging from the smallest villages of India, Hima Das aspires to inspire many more like them
Sure she would, if she has the right support!
Would you like to support her in her cause or other similar hidden talents in India? Let us know at info@maneeshmedia.com.