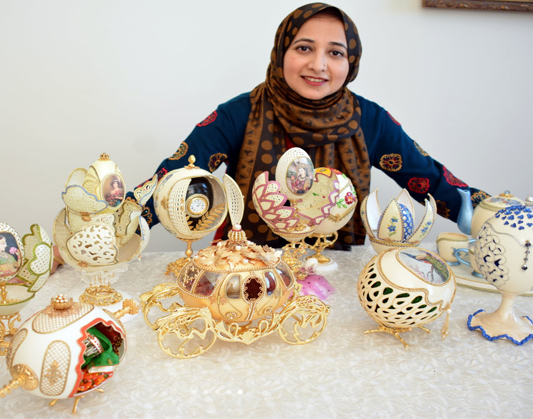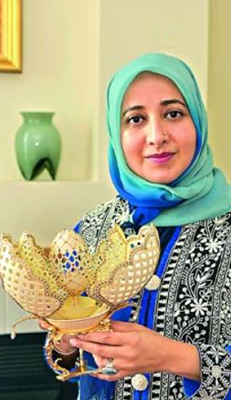 The Art of Rebirth
What are the possible uses of eggshell? Apart from being a good addition to your soil compost, it drives away kicks pests, is a good pot scrubber and also makes a good face mask.
But beyond that, there's a lot more an eggshell can do; perhaps as a decorative piece. Farha Sayeed has the answer.
Pablo Picasso says every child is an artist; the problem is how to stay an artist upon growing up. Farha Sayeed is one such person who has been an artist all her life. She comes from the illustrious family of Nawab Tipu Muhammed Khan Bahadur, and has been creative since her childhood. She loved to experiment with different genres of art, like pencil sketching, aluminium foil work, charcoal painting, glass painting, silk painting as a child. She studied in Rosary Convent High School and Vanita Maha Vidyalaya, Nampally, Hyderabad. Her choice of education also reflects her aesthetic side; she graduated in English Literature. She married Dr Ausaf Sayeed, the Indian Ambassador to Saudi Arabia and by an Indian family she took up egg art in 1998, improvising and experimenting with the fusion of Indian, Islamic and western elements.
The art or craft of decorating eggs is popular in East European countries. The oldest eggshells, decorated with engraved filigree patterns, date back to 60,000 years ago and were found at Diepkloof Rock Shelter in South Africa. Eggs, from ancient times, have been decorated in various ways and exchanged as gifts; and why not, it symbolises rebirth!
Farha's art is no different.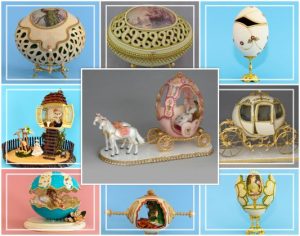 She decorates Ostrich, Emu, Goose, Duck, Turkey, Guinea and Hen's eggs, making each piece a masterpiece by intricately cutting, carving, decoupage, trolling, etching, dyeing and decorating it with pearls, beads, crystals, brocade, velvet, satin, golden laces and rhinestone chains. Using a high-speed tool, she cuts to reduce and prevent shattering. She also treats shells with liquid polymer to strengthen and preserve their natural beauty.
"It takes about six to eight weeks to make one piece of eggshell art," she says.
The principles of true art are not to portray, but to evoke. The eggshells and the stands they are mounted on are imported from different countries. Farha makes sure that only unfertilised eggs of domestic farm birds are procured for her work.
Farha has organised many shows and expeditions: Eggstravaganza in Chicago (2016), Eggspressions in Yemen (2012), Eggxotica in India (2010), Eggcellence in Jeddah (2008) and Eggsperience in Denmark (2004). Some world-renowned personalities like Nawab Mansur Ali Khan, Shatrughan Sinha, Dr Shashi Tharoor, Yousuf Ali, Khaled Al-Maeena and many more have appreciated her work. She has also been featured in mainstream media like The Sunday Guardian, The Hindu, The Indian Express, Hindustan Times, The Times of India, Chicago Times and many television shows. The only recognised professional egg artist of India, she is a member of the International Egg Art Guild (IRAG), a nonprofit organisation of artists, artisans and craftspeople who work with natural eggs as an art or folk art medium.
Apart from pursuing egg art, Farha devotes her time in philanthropic activities. She has been the President of Heads' of Missions Spouses' Association, headed the women wing of the Indian Pilgrim Welfare Forum and has also supported the HOPE Centre for the children of special needs in Jeddah.
She is certainly the first Indian lady to put India on the international map of Eggo artists.
Do you too possess any such talent? Or know someone who does? Or have seen other beautifully decorated eggshells? Do share info@maneeshmedia.com