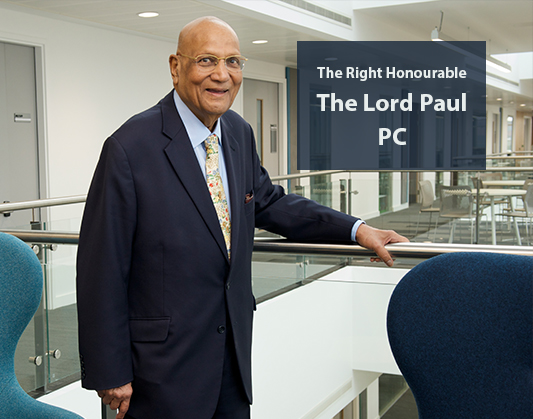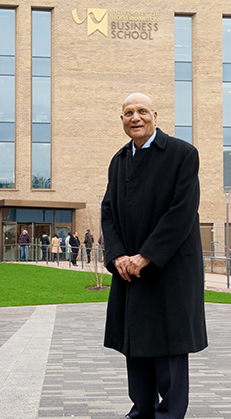 If Tomorrow Never Comes: Kal Ho Na Ho
The world longs for success stories, it looks up to them. On the contrary it is too impatient and harsh with those who have failed or are slow. Perhaps because most of the people in the world are driven by passion and dreams, very few by failures. Yet, there are some, who are inspired by failure, who push themselves to something better after a failure. These are the passionate ones. Our director, Manish Kumawat, on his trip to the UK, met one such personification of passion. He has written his own story… of learnings and failures, of heartbreaks, of continuity, of success. Swraj Paul, the man whom the British Queen knighted to be called The Right Honourable The Lord Paul PC.
Manish felt it a must-to-share experience. Here he goes:
"It was no ordinary meeting, I knew this from the very start. The reception lounge I waited for him was a bright and comfortable place to be in, I could have easily dozed off but not today. It was a serious business meeting with a billionaire, not just any billionaire, but the one who had two 'The's in his name! Having researched about him beforehand, I knew he was the one behind one of the most well-known educational institutes in India and one of the most sought-after global organisations for engineers. I was sure he would have a tight schedule, busy with meetings and wouldn't really give me much of his time – but I was so wrong. He was kind, gentle and full of humility, who not only spoke to me about how he made money but the personal side of his life and family that inspired him to become one of the richest men in the UK.
Well, he has a few things in his story that can make anyone sit and listen to him: He has witnessed the dreary partition of the Indian subcontinent 1947, he was 16 then. He has studied at the MIT when none had heard of it. He had once become a sanyasi, having given up on life. He owns a conglomerate that everyone wants to work in. He has lost two of his children to fate. Whatever happened in his life, he has stayed determined to live it better!
This kind-hearted billionaire, he still keeps food for the needy outside his office in memory of his mother who always kept chickpeas for the needy passersby. I was overwhelmed when he offered me some!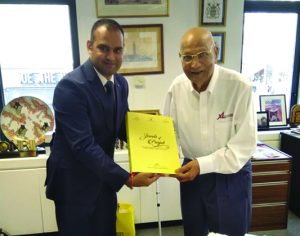 A student in Lahore when the bloodbath of 1947 happened and he, along with other students, volunteered to help the refugees; he was often moved by their plight. He moved to the USA to study engineering at MIT, one of the top colleges in the world, met the first Prime Minister of India, but nothing changed him. Life for him was only a journey… until his daughter, Ambika, was diagnosed with leukaemia. Any sort of cancer, back then, was incurable. He took his entire family to the UK in search of health for Ambika with plans to return on her treatment, but that was never to happen, neither the treatment nor the return. She lost her life to cancer in 1986 and left Swraj shattered.
So much was grief that he became an ascetic, withdrawing from his social life. Today, as we talked about her, I could notice a change of expressions, a tense body language. He is still deeply connected to her, so much that when the London zoo – a place that Ambika loved – was on the verge of bankruptcy in the early 1990s, he did everything to rescue it. "She left a lot of herself there," he says, with a fading smile and eyes shining.
In memory of his lovely daughter, he founded the Ambika Paul Foundation, which now gives hope to many more Ambikas. And as he speaks about it, his voice turns heavy and eye teary. What moved me deeply was the fact that as he spoke about her, a lump in his throat, teary eyes and silence of the room spoke more than him, perhaps everything! "I still live in the flat she had once lived in."
Yet, when he restarted his life, he was rather unstoppable. He soon created a whole empire, a thriving conglomerate, which his sons took over once they grew up. The business was at its peak, the family was in bliss, when his youngest son, Angad, left the world. "Not old enough to leave us," is the only thing that Lord Paul could utter, eyes flowing with an unsaid sorrow. At 88, he still walks to his office and works and spends most of his time in philanthropy. So much has he achieved but nothing matters to him. His heart cries for his lost children and rejoices at the achievement of his other children… He lives his memories through others by supporting causes that the two loved.
In his memoir, Beyond Boundaries, he seeks the purpose of intelligence, money, position and assets when none of it could save his children.
I left his office, satisfied that I had had an unexpectedly long conversation, yet I felt dissatisfied, seeking answers to what we are, what we run after. On the streets of London, walking to my next destination, I wondered why running after such money and success, leaving our families and loved ones behind, is important? And when they are gone, regret of the time you could have spent together, laughter you could have shared together and love you could have felt together for one another hurts you! Nothing, nothing but love matters. From him, I have learnt that as long as we are together with our close ones, love them, show them our love and give them time and value. And with this thought, I exchanged farewell greetings with Lord Paul, packed my bag and moved out on to the streets of London, thinking … such are the stories our Maneesh Media works for … such are the people who change the world and we are happy to bring such stories for our readers … and such stories teach us the real meaning of life, inspire us all and remind what if tomorrow never comes, what if kal ho na ho."
Lord Swraj Paul makes me wonder shall we rather have a changed meaning of success, or shall each one of us have our own perception of the word 'success'?"
How do you define success? Do share with us at info@maneeshmedia.com